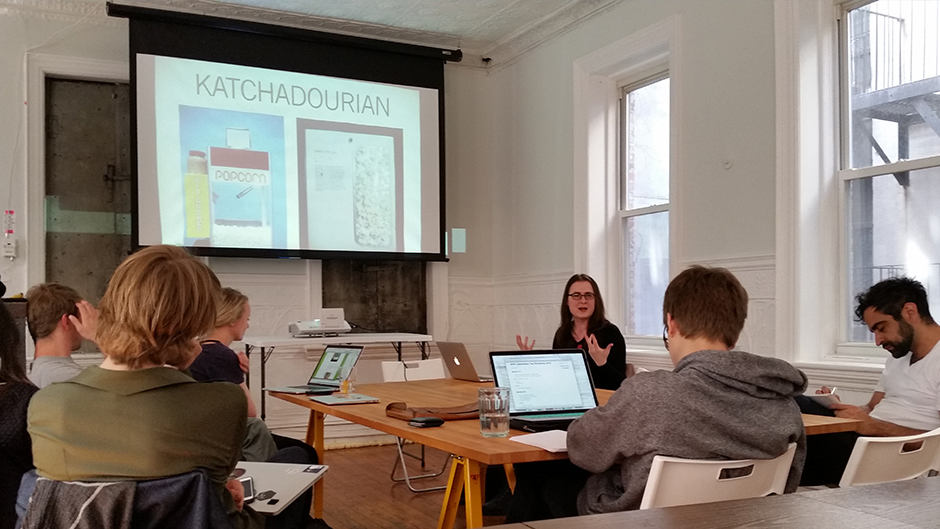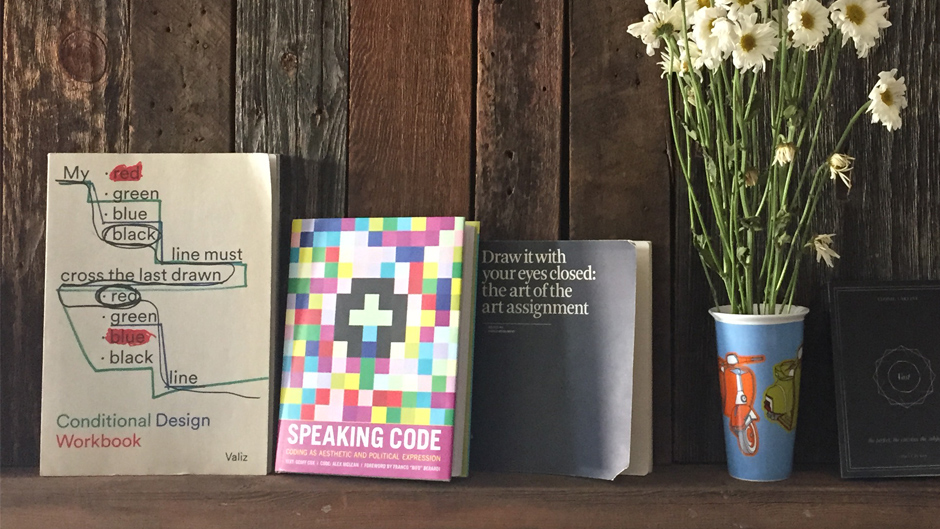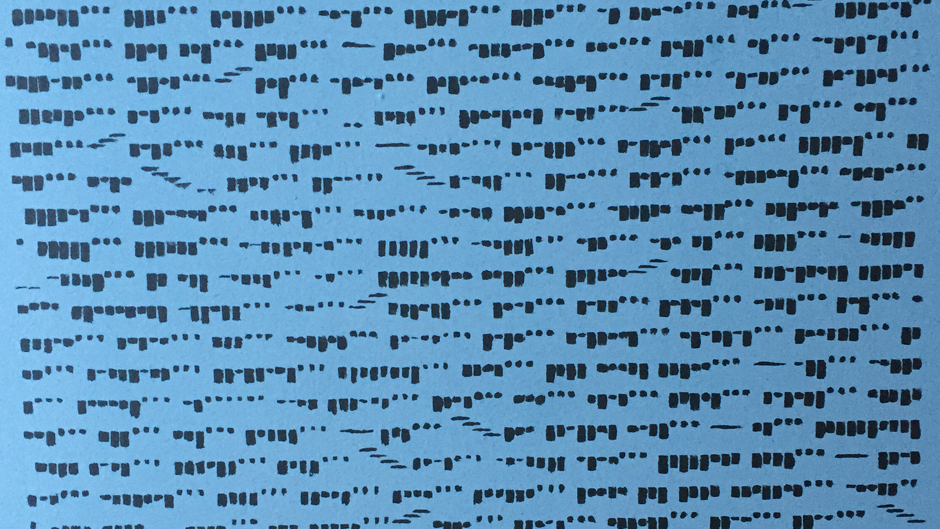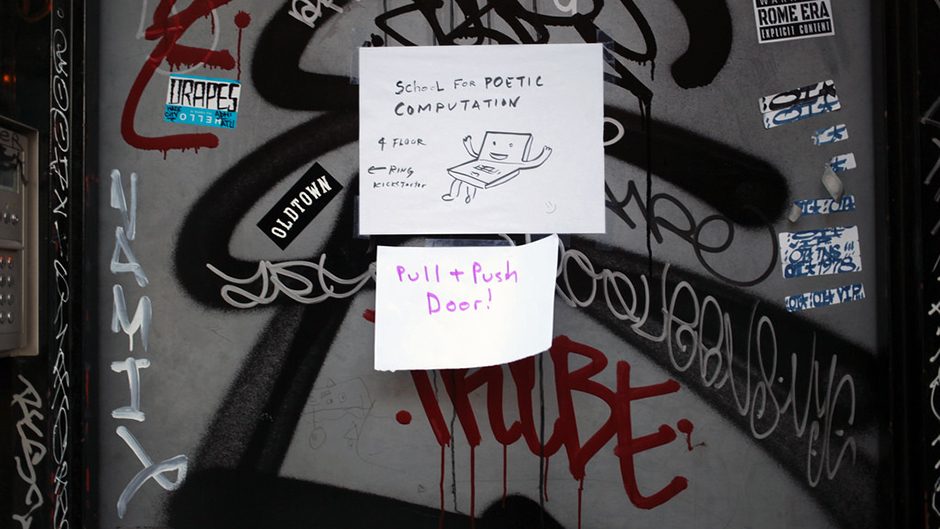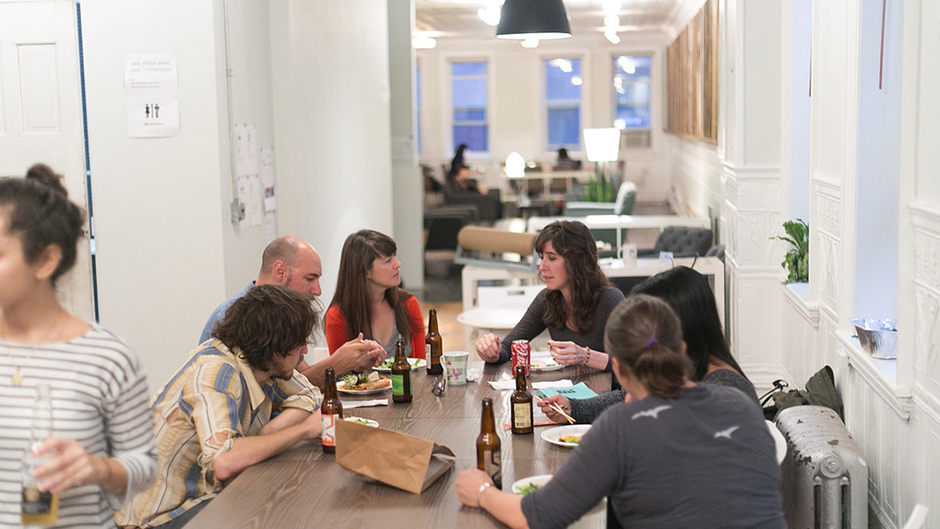 We are accepting
Applications
through
July 23rd, 2015
on a rolling basis.
---
Summer Session on Code Poetry
We are organizing evening classes for a summer session on Code Poetry between July 27th - August 9th, 2015
School for Poetic Computation (SFPC) is a hybrid of school, artist residency and research group where students develop a deep curiosity of what it means to work poetically in computational media.
Poetic Computation is a practice and a community that sees the computer as a medium for artistic expression and critical thinking. It's less impressed with the final result of the 'thing' and more supportive of the process, learnings and questions around creating the thing.
Now that most of our reading is mediated by technology, it makes sense to develop a writing practice that recognizes, even takes advantage of that fact. By using code you control the reader's attention – where they dwell or skim – and create an emotional scene on which text resides. Code can also generate the content of text, a practice that has spawned some excellent twitter bots and generated novels.
This 2-week program is for artists, writers and poets who want to learn to code or push the boundaries of what's possible with text – it's also for coders and technologists who want to incorporate narrative and poetry into their work.
Come with a project in mind, a question you want to explore, or just an excitement to learn. We'll work together to build upon ideas over the two weeks and share our projects with each other at the end of the session.
We will be primarily working with JavaScript and Python. You don't need to know how to code in these languages but getting familiar with them will help you make the most of the program. We're here to help you help yourself and we recommend completing a few online tutorials if you are beginner (resources below).
Meet others! Building a supportive community is important to SFPC. We'd love for you to join us for these two weeks but also to stay involved when they are done. We will do our best to introduce you to people and places that foster creativity and learning around the city.
##Dates & Logistics Monday, July 27th - Sunday, August 9th @ Babycastles gallery
Classes will be held between Mon-Fri from 6:30pm - 9:30pm with workshops and social events on the weekend.
Additionally, the space will be open for students on weekdays for working, learning and hanging out. We encourage people with day jobs to attend this program and it is not mandatory to be there during the day, however if you can get away for a few days you can use this time to focus on your project and studies!
Babycastles; 137 W 14th St. 2nd floor bet. 6th and 7th ave. Map Near the F, M, L, 1, 2, 3, C, A and Path train lines
##Fees
1,500 USD to participate in two weeks program.
We are committed to being fully transparent about how we make and spend money. In the spirit of radical openness and generosity, on which the school was founded, we open-source our finances on Github. There, you can read financial reports and download raw statements.
##Deadline Please apply as soon as possible! we have a limited space to accommodate participants. We will be accepting students on a rolling basis for the Summer session. This means early applicants will be notified sooner. Final deadline is 7.23, however there is a high chance we will close the call when we have 15 students who confirm acceptance.
##Who You Will Meet
The Teachers
The Team
##What to Bring Laptop (Mac/ PC/ Linux) Basic knowledge of JavaScript & Python.
##You're Still Here? OK. Here's some more details about the program like what kinds of works we consider 'code poetry' and what your day will be like.
##Motivational Examples
##Day in the Life
Mon-Fri
10am, gallery opens and Todd and/or Lauren are there with a fresh pot and a smile.
Each day you'll have access to the space and individual free time to work on projects, ask questions, or just hang out. Some afternoons, there will be optional scheduled activities such as pizza parties, show and tell, game time & field trips.
6:30 - 9:30; Class with Todd, Sarah, Allison, Nick or visiting artist.
9:30 - 11; up to you, stay late or go home and get some rest.
Weekends
1:30pm - 5:30pm
Sat Aug 1st; Check in & workshop with visiting artist.
Sun Aug 2nd; Community picnic with SFPC alumni.
Sat Aug 8th; All-day check in and feedback sessions for the final day(the 9th).
Sun Aug 9th; Final day & presentation. Informal get together to show off your final work to friends and family. Celebrate what you have accomplished and things you are excited to work on next!
##To apply
Please fill out this form
Please note we will be accepting students on a rolling basis for the Summer program. Apply early!
Feel free to reach out to us if you have questions about the school: info@sfpc.io
SFPC is filled with amazing people and an open mindset to learning, and doing. It has taught me different ways of thinking, ones that I would be sure to bring back to my endeavors outside of the art world.
I'm half way through the program and I'm already missing being here. SFPC was a much needed breath of fresh air in my hectic creative existence, an unlikely place to stop and remind myself what was it I was into in the first place.
SFPC messed up my life a little bit. Actually, I think it's going to mess it up a lot. Before this program I thought I knew what I was doing and what the shape of my life was going to look like. Now I don't and each day I wake up scared I won't get to be a part of a community like this again. Everyday also now brings a fresh but welcome creative terror to overcome. Also I think I may have ended up moving to New York accidentally.
SFPC is the best place you can explore your interest as much as you want and the place you start to write your own poem.
SFPC is not really a school or a course — it is more like a door into an extraordinary world. It is driven by passion, kindness and the thrill of teaching and learning. I would love to live those inspiring weeks all over again.
SFPC was amazing — life-changing even — i want to do all this stuff for the rest of my life!
I've never been consistently surprised and inspired as much as at SFPC.
If you think SFPC is what you think, that will be wrong. SFPC is a space for a group of people who badly want to try something new. SFPC will become a spirit embedded in your blood which makes you think things with a different angle, just like its motto: more poetry, less demo.
I learned a lot at SFPC. It was only a 2 week program last time, but I learned many things from other participants and got the chance to explore and fail freely. SFPC helped me to reshape the way I think. It's your turn.
School For Poetic Computation is equal parts The Factory, childhood blanket fort, and mad scientist's lab. I learned a ton from the teachers and the whole SFPC community in a huge collaborative and exploratory environment.
Attending SFPC is like walking into an all day buffet supplied with food from hyper-talented chefs. There's more than you could ever consume, naturally, and you will most likely find yourself requiring a digestion period, but holy crap is it tasty.
My takeaway from SFPC: Never settle for code that isn't at least a little bit magic
In SFPC I found a great community and it gave me the confidence to take on coding projects I couldn't have done before.
SFPC is the purest, most honest exchange of knowledge and experience among peers I have ever experienced. It is a supportive space where everyone learns from everyone, and bridges are built that continue to be strengthened for years to come. You won't get a certificate or a title at the end of it, but I would be amazed if you ever looked at your world the same again. I haven't.